PLEASE NOTE: THE 9TH EDITION OF THE 40 PAGE MONEY MAZE WORKBOOK (PREVIOUSLY THE PACIFIC NORTHWEST SCHOLARSHIP GUIDE) IS CURRENTLY AVAILABLE FOR $9.95 plus shipping and sales tax (for Washington residents).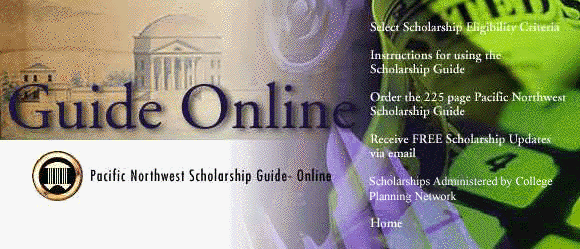 The Scholarship Guide - Online is a personal, step-by-step tool, designed for you. Unlike all other scholarship searches on the Internet, this Guide is free, requires no personal profile for use and provides you access to 100 percent of the scholarship data. It is maintained by the nonprofit College Planning Network, serving students of the Pacific Northwest.

For detailed instructions in the use of this new tool, click on the Instruction link above. To begin selecting scholarships, click on Select Scholarship Eligibility, above. The Guide is matched by a 200 page book, the Pacific Northwest Scholarship Guide, that can be ordered by clicking on the Order link above. If you are an administrator of a scholarship or know of a scholarship that we do not have listed, please use our online scholarship submittal form to provide the necessary information for a listing in our Guide.

The engine that drives the Guide was designed for CPN by Microsoft as a charitable gift. Please contact CPN at (206) 323-0624 or e-mail at seacpn@collegeplan.org for more information or to let us know how this new resource worked for you.
Copyright 2009, College Planning Network, 43 Bentley Place, Port Townsend, Washington 98368 (206) 323 - 0624, seacpn@collegeplan.org
[ Select Scholarship Eligibility | Instructions for PNWGuide | Order PNWGuide Hard Copy | Recieve Free Updates | Home ]

Counter represents actual visits to this site since October 16, 1996.